EconoDrain® EPS Trench Drain Forming System
EconoDrain® is a complete, pre-engineered expanded polystyrene (EPS) foam trench drain forming system. The system includes EPS forms defining the trench width, depth and slope, plus an anchored grate frame and standard cast grates having H20 and or HS25 load capability. The system is complemented by In-Line catch basin or 24″ x 24″ and 32" x 32" catch basin assembly. The EconoDrain system is designed for maximum versatility, customization and easy installation. These aspects, combined with its cost efficiency and stark simplicity (only three components to install and no specialized tools required) make the EconoDrain system an excellent choice for managing the issue of site drainage.
Design Flexibility and Customization
Design flexibility and customization of the EconoDrain and EconoDrain PT-2 Systems Is a major contributor to its uniqueness in the field of area drainage solutions.
The design team at MultiDrain Systems, Inc. is available to assist in establishing all necessary requirements for a custom or partially custom system resulting from changes in standard size, finish and slope of trench drain components.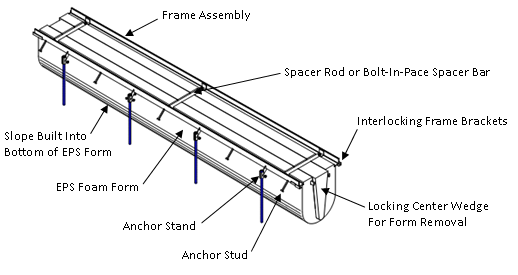 EPS Trench Forms
Standard trench slope of 0.5% [1/2" of fall per eight (8) feet of run].
Standard trench widths of 4.5", 6", 8",10" 12",15" 18" and 24".
Standard EPS form length is 8'
Custom slopes, widths, depths and length of runs are available.
Interlocking EPS forms provide additional stability of system during concrete pouring operations.
Standard trench geometry includes a hydraulically efficient radius bottom or an optional square bottom.
EPS Intersection kits make Tee's and Ell's fast and easy to install.
Pigmented form release helps assure overall and complete coverage.
Design facilitates easy and quick form stripping.
Deep channel form stabilization assures stability.
Pipe installation is quick and easy at outfall or outlet locations. Horizontal, vertical or in-between pipe outlets can be made anywhere along the EPS form length unlike other fixed outlet point systems requiring difficult and expensive stubbing and fabrication to match pipe to a fixed point.
EPS forms are easily field cut or mitered by the contractor to fit project specifications or make field alterations which are necessary from time to time.
Grate Frame
Standard finish is black polyester powder coating. Galvanized and stainless steel are optional.
Grate Frames with factory welded spacer rods minimizing site assembly and setup. Spacer rods assure accurate frame width dimension and co-planar geometry.
Field assembled Steel Rails and Bolt-In-Place Spacer Bars, assure accurate frame width dimensions and co-planner geometry.
Anchor stands facilitate quick setup, permits easy grade adjustments, resist flotation forces and secures the grate frame, in addition to weld studs, into the surrounding concrete.
Standard grate frame length is 8'.
Frames are easily field cut by the contractor to fit project specifications or make field alterations which are necessary from time to time.
Interlocking Frame Brackets provide alignment, accuracy and ease of installation.
Miters are easily field cut.
Gratings
Standard grates are ductile iron and cast iron grates capable of H20 and or HS25 load conditions.
Extra Heavy Duty PT-2 grates are designed for FAA Airport loading.
Grate finish is black, uncoated, or optional hot dip galvanized.
Bar grates are available for the #6, #8, #10, #12, #15, #18 and #24 EconoDrain system. Bar grate finishes: Painted Steel, Galvanized Steel and Stainless Steel
ADA compliant grates are available.
Catch Basins
Both In-Line and square catch basins available providing a complete system.
Catch Basins install using same procedures and materials as the trench drain.
Catch Basin debris strainers are an available option.
SYSTEM CHARACTERISTICS
Versatile

Available in Standard and Custom trench widths, depths and slopes.Catch Basins available for complete system.
Continually sloped trench runs from 288' up to 336' are achievable. A center catch basin layout effectively doubles this distance.

Fast

8' Interlocking EPS forms enhance stability and speed installation.
Grate frame anchor stands provide quick easy grade adjustments.
EPS form design installs and strips quickly after the concrete pour.
EconoDrain can be installed in a fraction of the time required to install conventional form-and-pour trenches or pre-cast polymer concrete trench systems.
Unlike other systems — EconoDrain installs in one pour.

Simple

Only 3 components — EPS Forms, Grate Frame & Grate
No special tools or installation devices required.
Outlet connections at any angle.

Accurate

Patented rebar installation/leveling system
Welded Grate Frame spacers
Bolt-In-Place Spacer Bars
Pre-sloped interlocking forms
Deep channel form stabilization.

Economical

Cost efficiency realized in purchase cost and installation labor and time.

Robust

EconoDrain is always installed with a grate frame thus eliminating surface spall and load impact damage experienced with polymer concrete inlay channel layouts.
EconoDrain standard grate is H20 and or HS25 capable in both slotted and ADA configurations