Alfa Channel® Polymer Concrete Trench Drain
Alfa Channel® is a modular, pre-cast, pre-engineered polymer concrete (PC) trench drain system that has an interior channel width of 4″. The system includes 30 sloped channel sections of 1m (3.27′) each with a built-in slope of 0.6%. The system also includes 4 additional neutral or non-sloping channels that may be inserted for additional trench length. A variety of gratings and covers provide load capabilities from pedestrian up to large aircraft and severe point loads. The system is complemented by both In-Line catch basin and 12″ x 19″ modular catch basin assemblies. The modular design of the Alfa Channel system provides true on-site adaptability and cuts down overall project costs by reducing excess materials.
NFPA CODES AND TRENCH DRAIN- Request a UL listed product
Various NFPA codes require drainage components to be made of non combustible materials. The intent of these codes are to prevent the spread of flame. Since trench are collection points of flammable liquids and heavier than air vapors, trench drains can spread fire and contribute to smoke development even when empty. All of MultiDrain Polyester Polymer Concrete products carry the UL 723 Classified mark for Class A fire rating for flame spread and smoke development.
Selecting a trench drain with the proper material properties is critical to the life cycle of the product and life safety of a buildings inhabitants. Demand a UL Classified product.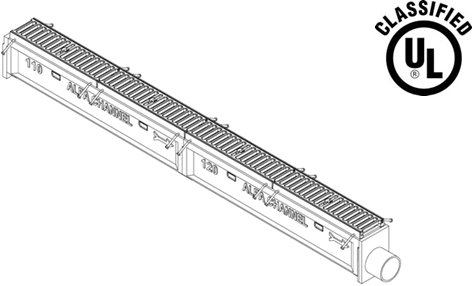 Polymer Concrete (PC) features:
Compared with Portland Cement Concrete (PCC)
PC trench drain resist attack for many acid and dilute alkaline materials.
PC Minimum compressive strength of 17,000 psi. [PCC 3,000 psi]
PC Minimum tensile strength of 2,000 psi. [PCC 200 psi]
PC Minimum Bending strength of 4,000 psi. [PCC 650 psi]
PC maximum moisture absorption of 0.2%. [PCC 5%]
PC freeze thaw cycles: 1,600 cycles — no weight loss. [PCC 750 cycles — 25% weight loss].
Polymer Concrete Channel features:
4" interior channel width, 0.6% Pre-sloped, radius bottom channel.
A continually sloped channel run of 98' is obtainable. A center catch basin layout effectively doubles this distance.
Neutral, non-sloping, channels can be inserted at 4 locations to extend the overall trench length.
Channel flow rates up to 380 gpm can be achieved (not including site slab slope).
Full length channel anchor ribs provide mechanical lock into surrounding concrete.
Tongue and groove butt joints at channel joints assist in channel alignment.
BlackDot polyethylene inserts provide fixture point for grate locking device.
A variety of solid end caps or end caps with outlets are available.